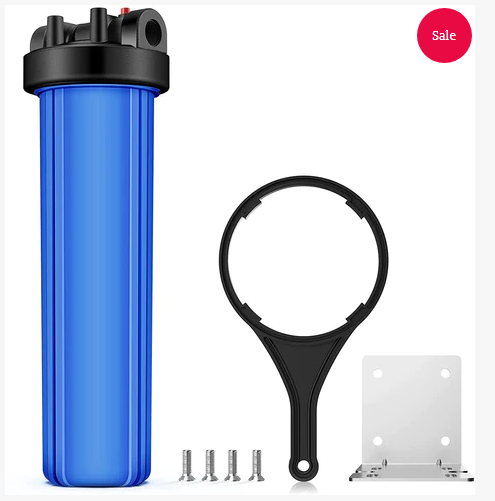 Jumbo Housing Filter Set 20"
Rs.5,500.00

-

Rs.6,000.00
Eagles Iberg Private Limited
manufactures complete range of water & waste water equipment's under the brand name
"Bluberry"
. Our raw materials are procured from the best-in-class brands and we manufacture the critical components.
Our water treatment equipment's are the best in the industry. All our filter cartridge's, media, resin's and all the consumables have enhanced life because of the best-in-class raw materials.
We are associated with many international brands who manufactures best-in-class component's and consumables.
A "Jumbo Filter Housing Set" is a water filtration system that includes large filter housing units designed to accommodate oversized or jumbo-sized water filters. These filter housings are commonly used in applications where there is a high demand for filtered water, such as in commercial and industrial settings or in homes with larger water filtration needs.
The specific components and features of a Jumbo Filter Housing can vary, but it typically includes:
Jumbo-sized filter housing: These are large, durable containers that hold the water filter cartridges. They come in various sizes, such as 10 inches, 20 inches height and 4 inch diameter, to accommodate different flow rates and filtration needs.

Filter cartridges: The set may includes one 5 micron jumbo-sized filter cartridge, which can vary in terms of the type of filtration they provide, such as sediment filtration, carbon filtration, or other specialty filters.

Mounting bracket: A mounting bracket or bracket kit to secure the filter housing to the wall or another suitable surface.

Wrench: A wrench or tool for easy installation and removal of filter housings.

Pressure relief valve: Some filter housing sets include a pressure relief valve to release built-up pressure during filter replacement.

Inlet and outlet connections: These allow you to connect the filter housing to your water supply.
Jumbo filter housing are often used in scenarios where a high flow rate and extended filter life are essential, such as in commercial kitchens, factories, or large households. They can effectively remove impurities, sediment, chlorine, and other contaminants from the water supply, providing cleaner and safer water for various applications. The specific set you choose will depend on your filtration needs and the type of contaminants you want to remove from your water.