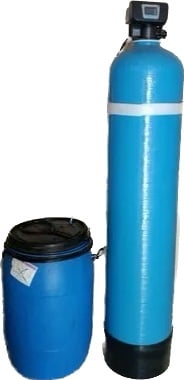 Bluberry AutoSoft 1354
Non-returnable
Rs.135,000.00
Rs.145,000.00
Eagles Iberg Private Limited
manufactures complete range of water & waste water equipment's under the brand name
"Bluberry"
. Our raw materials are procured from the best-in-class brands and we manufacture the critical components.
Our water treatment equipment's are the best in the industry. All our filter cartridge's, media, resin's and all the consumables have enhanced life because of the best-in-class raw materials.
We are associated with many international brands who manufactures best-in-class component's and consumables.
Cards | UPI | Net Banking | Bank Transfer
Credit Card EMI Options Available
GST Setoff available for Companies
Product Details
Specifications
An automatic water softener with an imported multiport valve is a water treatment system designed to reduce the hardness of water by removing minerals like calcium and magnesium ions, which can lead to scale buildup in pipes and appliances. The "imported multiport valve" typically refers to a high-quality, reliable valve used for controlling the various stages and functions of the water softener. Here's an overview of how this system works and its key components:
Water Softener Tank: The system consists of a tank filled with resin beads. These resin beads are specially designed to attract and bind the calcium and magnesium ions responsible for water hardness.

Automatic Control Head: The heart of the water softener is its automatic control head, which includes the imported multiport valve. This valve allows for various functions, such as regeneration, backwashing, and rinsing, to occur automatically and at the right times, based on the system's settings.

Resin Bed Regeneration: Over time, as the resin beads become saturated with hardness minerals, they need to be regenerated. During the regeneration process, a brine solution (a mixture of salt and water) is introduced into the resin bed. The imported multiport valve controls this process and ensures that it happens at the appropriate intervals. Regeneration flushes out the accumulated minerals and recharges the resin beads for continued softening.

Brine Tank: The system typically includes a separate brine tank where salt is stored. The salt is used to create the brine solution required for regeneration. The automatic control head triggers the regeneration cycle when it's needed based on the system's programming.

Purified Water Output: After the regeneration process, the water softener is ready to provide softened water to your home. The system delivers softened water for everyday use, reducing the negative effects of hard water on plumbing, appliances, and skin.

Programmable Settings: The control head, often operated via an electronic controller, allows users to customize the regeneration frequency and timing based on their water usage patterns and water hardness levels.
An automatic water softener with an imported multiport valve is a convenient and efficient solution for addressing hard water issues in homes, SOHO, Industries, Hospitals and commercial establishment's. It ensures that the system operates effectively and efficiently without requiring manual intervention. Regular maintenance, including adding salt to the brine tank and checking the system for any issues, is essential to keep the water softener functioning optimally.
Water Softener
Vessel

FRP

Vessel Size

1354

Vessel Brand

Pentair

Pre-Filter Media

Pebbles | Sylex

Media

Cation Resin

Resin Brand

Purolite - USA

Multiport Valve

Imported

Mode of Operation

Automatic

Inlet | Outlet Size

1 Inch

Braine Tank

200 Liters

Braine Valve Assembly

Yes