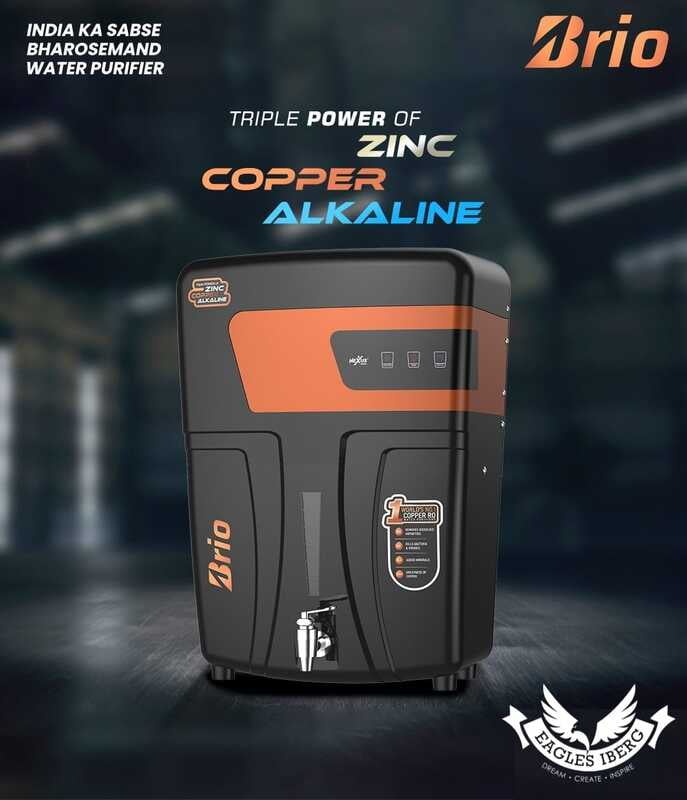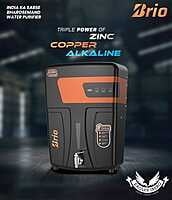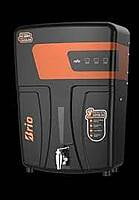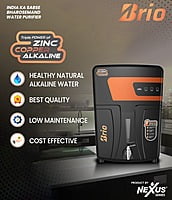 Bluberry Brio RO Purifier
Non-returnable
Eagles Iberg Private Limited
manufactures complete range of water & waste water equipment's under the brand name
"Bluberry"
. Our raw materials are procured from the best-in-class brands and we manufacture the critical components.
Our water treatment equipment's are the best in the industry. All our filter cartridge's, media, resin's and all the consumables have enhanced life because of the best-in-class raw materials.
We are associated with many international brands who manufactures best-in-class component's and consumables.
Benefits Of Bluberry RO Water Purifier:
Converts hard water into soft water
Output water meets IS: 10500 standards
Removes harmful impurities & microorganisms
Enhances taste of water
Beverages & Food taste better due to the purity of water
Huge savings from bottled water usage
Good quality water for workers
Assurance of EIPL's trusted service backup with all RO water systems
Product Details
Specifications
Bluberry Brio RO Purifier is a combination of various water treatment technologies and filter types. Let's break down each component:
Sediment Filter: The first stage is a sediment filter, which removes larger particles like sand, silt, and debris, protecting the subsequent filters from clogging.

Carbon Pre-Filter: The second stage features a carbon pre-filter that helps eliminate chlorine, bad tastes, odors, and some organic compounds, ensuring the water is more pleasant to drink and extending the life of the RO membrane.

RO (Reverse Osmosis): RO is a water purification process that uses a semipermeable membrane to remove a wide range of impurities, including dissolved solids, heavy metals, chemicals, and some microorganisms. It's highly effective at producing clean and safe drinking water by removing contaminants through a fine membrane.

UV (Ultraviolet) Sterilization: UV treatment is used to disinfect water by exposing it to ultraviolet light. This process can deactivate or kill bacteria, viruses, and other microorganisms that may be present in the water.

TDS Controller: TDS stands for Total Dissolved Solids, which is a measure of the concentration of inorganic and organic substances dissolved in water. A TDS controller is a device that helps regulate the level of dissolved solids in the purified water, ensuring it falls within a desirable range for taste and health.

Triple Power of Copper, Zinc, and Alkaline Filters: This part of the description refers to additional filters and technologies used to enhance the quality and taste of the purified water:
Copper Filter: Copper is known to have antimicrobial properties and can help inhibit the growth of bacteria and algae in the water.

Zinc Filter: Zinc is often used to improve the taste and odor of water. It can also have some health benefits.

Alkaline Filter: An alkaline filter is designed to raise the pH of the water, making it less acidic and potentially providing health benefits. It may also improve the taste of the water.
Water purification systems that combine RO, UV, and additional filters are often used to provide comprehensive water treatment, ensuring that not only contaminants but also harmful microorganisms are removed from the water. The inclusion of copper, zinc, and an alkaline filter adds additional features to improve water quality and taste.
When considering such a system, understand the maintenance requirements, such as filter replacement and UV lamp replacement, to ensure that the system continues to operate effectively. The specific features and performance of these systems can vary between models, so it's advisable to review product specifications to make an informed decision.
Domestic RO Plant
Model

Bluberry Nexus Brio

Technology

RO+UV+TDS Controller

Tank Capacity

12 Liters

Flow Rate

12 Liters per hour

Pump

75 GPD

No of Stages

12

Special Filters

Zinc | Copper | Alkaline

Indicators

Power | Purification | Tank Full

Operating Voltage

24V DC

Power Consumption

60 Watts

Installation Type

Table Top | Wall Mount

Storage Tank Material

Food Graded Plastic