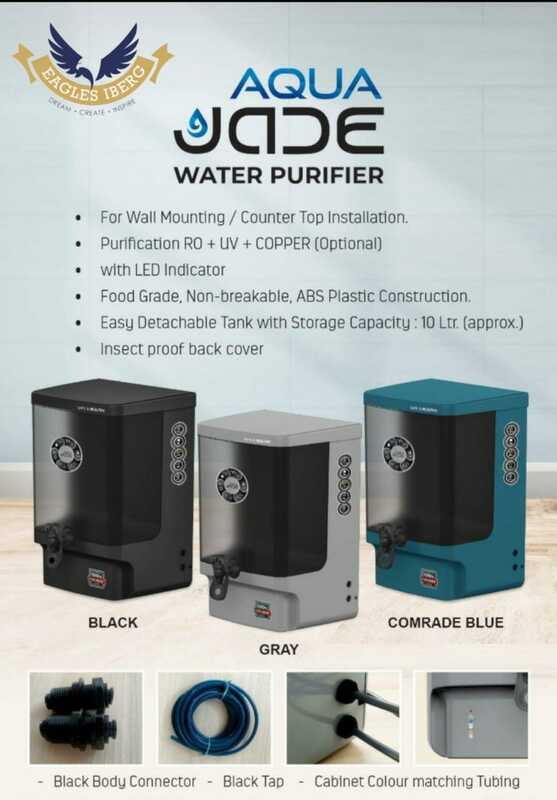 Bluberry Jade RO+UV
Non-returnable
Rs.15,500.00
Rs.17,500.00
Eagles Iberg Private Limited
manufactures complete range of water & waste water equipment's under the brand name
"Bluberry"
. Our raw materials are procured from the best-in-class brands and we manufacture the critical components.
Our water treatment equipment's are the best in the industry. All our filter cartridge's, media, resin's and all the consumables have enhanced life because of the best-in-class raw materials.
We are associated with many international brands who manufactures best-in-class component's and consumables.
Benefits Of Bluberry RO Water Purifier:
Converts hard water into soft water
Output water meets IS: 10500 standards
Removes harmful impurities & microorganisms
Enhances taste of water
Beverages & Food taste better due to the purity of water
Huge savings from bottled water usage
Good quality water for workers
Assurance of EIPL's trusted service backup with all RO water systems.
Product Details
Specifications
A residential RO system with UV purification and a TDS controller in a 5-stage configuration is a sophisticated water treatment system designed for households. This system typically consists of the following stages:
Sediment Filter: The first stage is a sediment filter, which removes larger particles like sand, silt, and debris, protecting the subsequent filters from clogging.

Carbon Pre-Filter: The second stage features a carbon pre-filter that helps eliminate chlorine, bad tastes, odors, and some organic compounds, ensuring the water is more pleasant to drink and extending the life of the RO membrane.

Reverse Osmosis (RO) Membrane: The heart of the system is the RO membrane in the third stage, which uses a semi-permeable membrane to remove a wide range of impurities, including dissolved solids, heavy metals, bacteria, viruses, and other contaminants.

Ultraviolet (UV) Sterilization: In the fourth stage, UV purification is employed to kill or inactivate any remaining microorganisms in the water, including bacteria and viruses. UV treatment provides an additional layer of protection against biological contaminants.

Final Polishing Filter: In the fifth stage, a final polishing filter is often used to ensure the water tastes and smells as fresh and clean as possible before it reaches your faucet.TDS Controller:

The sixth stage features a TDS controller, which allows you to regulate the total dissolved solids (TDS) level in the purified water. This ensures that the water maintains an appropriate mineral balance and taste.
The combination of these five stages provides comprehensive water treatment, resulting in clean, safe, and palatable drinking water. The RO membrane is effective at removing a broad spectrum of impurities, while UV sterilization ensures the water is microbiologically safe. The TDS controller offers control over the mineral content, allowing you to customize the taste of the water to your preference.
It's essential to follow a regular maintenance schedule to replace filters and UV lamps to keep the system functioning optimally and ensure the quality of the purified water.
Domestic RO Plant
Model

Bluberry Jade

Tank Capacity

8 Liters

Flow Rate

12 Liters per hour

Pump

100 GPD

No of Stages

5

Indicators

Power

Operating Voltage

24V DC

Power Consumption

60 Watts

Installation Type

Wall Mount

Storage Tank Material

Food Graded Plastic