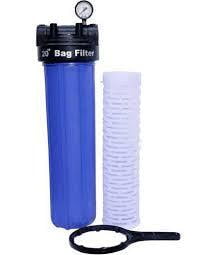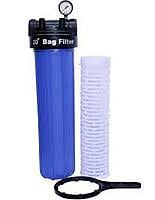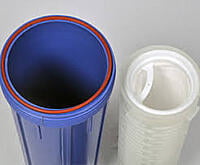 Jumbo Bag Filter 20"
Non-returnable
Rs.5,500.00

-

Rs.6,500.00
Eagles Iberg Private Limited
manufactures complete range of water & waste water equipment's under the brand name
"Bluberry"
. Our raw materials are procured from the best-in-class brands and we manufacture the critical components.
Our water treatment equipment's are the best in the industry. All our filter cartridge's, media, resin's and all the consumables have enhanced life because of the best-in-class raw materials.
We are associated with many international brands who manufactures best-in-class component's and consumables.
A "Jumbo Bag Filter Set" is a complete filtration system that includes not only the bag filter but also other components necessary for its installation and operation. These sets are commonly used in industrial and commercial applications for filtering various fluids, such as liquids or gases. Here's what a typical Jumbo Bag Filter Set includes:
Bag Filter Housing: The set includes the filter housing or vessel, which holds the bag filter. This housing is designed to provide structural support for the bag filter and maintain a seal to prevent fluid bypass.

Bag Filter: The set includes one or more bag filters, which are typically made of fabric or mesh and used to capture and separate solid particles from the fluid as it passes through.

Inlet and Outlet Connections: These are the ports or connections that allow the fluid to enter and exit the filter housing. They are typically designed to accommodate the appropriate pipe sizes and connections for your specific application.

Support Structure: Mounting brackets to secure the filter housing in place.

Pressure Gauges: Pressure gauges are included to monitor the pressure drop across the filter, which can indicate when the filter needs to be replaced or cleaned.

Installation Hardware: Sets may include the necessary bolts, nuts, and gaskets for the installation of the filter housing.

User Manual and Documentation: A user manual or documentation on the proper use and maintenance of the Jumbo Bag Filter Set is often included.
Jumbo Bag Filter Sets are commonly used in a wide range of industries, including manufacturing, chemical processing, food and beverage production, water treatment, and more. The specific components and features of the set may vary depending on the manufacturer and the requirements of the application. These sets are used to filter out solid particles, debris, and contaminants from process fluids to protect downstream equipment, improve product quality, and ensure the efficient operation of industrial processes.