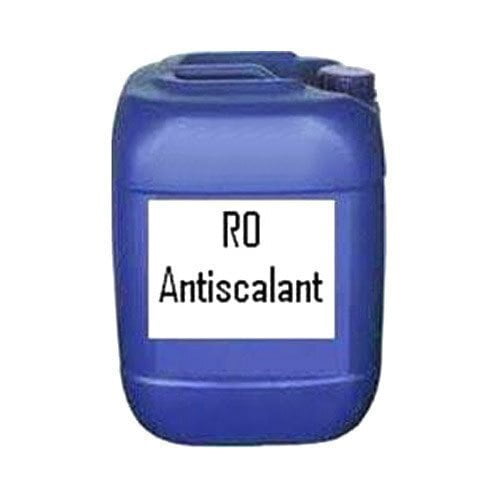 RO Antiscalent BB504 - 25Kg
Non-returnable
Rs.11,500.00
Rs.12,500.00
Antiscalant dosing chemicals are substances used in water treatment processes to prevent the scaling of mineral deposits, such as calcium and magnesium, on surfaces like pipes, heat exchangers, and the internals of various industrial equipment, especially in systems where hard water is used. Scaling can lead to reduced efficiency, increased energy consumption, and potential equipment damage. Antiscalant chemicals are designed to inhibit the formation and growth of these mineral deposits by binding to the ions responsible for scaling. Here are some key points regarding Antiscalant dosing chemicals:
Scaling Prevention: Antiscalants work by interfering with the crystal formation process of minerals. They prevent the minerals from precipitating and adhering to surfaces, thereby preventing scale buildup.

Common Applications: Antiscalants are used in various industrial processes, including cooling water systems, boilers, desalination, and reverse osmosis (RO) systems. They are also employed in oil and gas production to protect equipment from mineral scaling.

Types: There are various types of antiscalant chemicals available, and the choice depends on the specific application and the nature of the scaling minerals. Some common types include phosphate-based antiscalants, polyphosphates, and synthetic polymers.

Dosage: The correct dosage of antiscalant is critical for effective prevention of scaling. The dosage depends on factors such as water quality, flow rates, and the specific type of antiscalant being used. Overdosing or underdosing can be counterproductive.

Compatibility: Antiscalants are typically used in conjunction with other water treatment chemicals, such as corrosion inhibitors, biocides, and pH adjusters. It's essential to ensure the compatibility of these chemicals and follow recommended dosing procedures.

Environmental and Health Considerations: When handling antiscalant dosing chemicals, it's important to follow safety guidelines and environmental regulations to minimize potential health and environmental risks. Many antiscalants are designed to be environmentally friendly and safe to handle.

Regular Monitoring: Regular monitoring of the water quality and system performance is important when using antiscalants to ensure that they are working effectively. Adjustments to dosing rates or chemical types may be necessary over time.
The specific antiscalant chemical chosen will depend on the particular application and the water quality in the system. It's important to consult with water treatment specialists to determine the most appropriate antiscalant and dosing regimen for your specific needs.